Auckland Transport
There are plenty of Auckland transport choices to take you around the City, the suburbs, across to Islands, and Auckland is a main departure point to get around New Zealand using the transport options listed below.
Auckland City Transport Road Network
The centre of Auckland City is also easy to get around on foot.
Auckland Transport Centre
At the end of Queen St, Britomart Transport Centre is by the Harbour and where you can catch trains and buses.
There are other bus stops along streets in the City, you will be able to get information about those from the centre.
Britomart Transport Centre provides information about bus, train, ferry, cycling, walking, driving and parking.
Auckland Buses and Coaches
Auckland Explorer Bus
There is an Explorer Bus providing a hop on and off flexible way of going on a sightseeing tour of Auckland. This is a good option over a guided tour if you don't want to be tied into any particular schedule.
New Zealand Bus Journeys
Bicycles and Cycling Auckland
You can hire bicycles to get around Auckland. Be aware though that the City does have hills to consider for physical ability and drivers are not particularly cyclist aware. Unless you are used to cycling it may not be your best choice for getting around City sights in a day.
There is however a nice ride along Tamaki Drive that goes 10km along the waterfront and a variety of other long and short rides you can do out of the traffic.
Visit Auckland Transport for more about cycle rides in the urban environment, through forest, along the coast and further afield, including downloadable maps and routes. AT Cycle and Walking Maps.
City Tram
Auckland Dockline Tram provides a nostalgic ride on a historic tram around the streets of Auckland City.
Car
Because most places within the City are accessible via public transport you won't really need a car unless you are going to venture further afield either in the region or touring New Zealand.
If for example, you want to visit some of the wineries or visit surf beaches then hire a car, if you are focussed on experiencing what Auckland has to offer then I would say don't hire a vehicle until you leave the City because you can get around perfectly well on public transport.
Auckland Taxis and Shuttles
There is a taxi and shuttle rank at the airport and are taxi ranks located around the city. Your accommodation will likely be able to give some phone numbers to book taxis or shuttle buses.
There is a main taxi rank near the Britomart Transport Centre if you arrive by train or bus and need a taxi to your accommodation.
Auckland Ferries
Auckland Downtown Ferry Terminal
Waitematā Harbour provides access to board ferries to Waiheke Island, Tiritiri Matangi Island, Rangitoto Island, Rotoroa Island, Motutapu Island, Motuihe Island, Devonport, the Coromandel Peninsula and other places around Auckland Harbour.
Downtown Auckland Ferry Terminal is on Quay Street and connects to trains and buses from the heritage building where it is located.
Auckland Ferry Routes and Companies
Fullers 360
Bayswater
Beach Haven
Birkenhead
Devonport
Great Barrier Island
Gulf Harbour
Half Moon Bay
Hobsonville and Beach Haven
Motuihe Island
Northcote Point
Orapiu
Rangitoto Island
Stanley Bay
Waiheke Island
Fullers Ferry in Auckland Harbour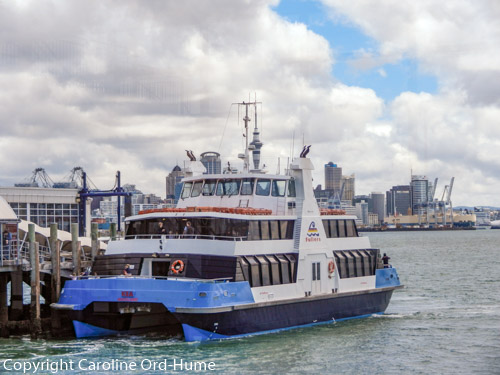 Sealink Car Ferry
Great Barrier Island
Waiheke Island
Rakino Island
Pine Harbour
Other Islands
Pine Harbour
Pine Harbour ferry
Belaire
Rakino Island ferry
West Harbour ferry
Trains
Flights
Auckland and Places in the Region
Auckland Things to Do - List of attractions and activities.
Auckland region - List of places.
Auckland is a good location to use as a base to access other parts of the North Island and to get transport to the South Island by air, train, road, or by sea.