Mangere Mountain Auckland
Mangere Mountain Auckland is a volcanic cone with significant historic interest. Not only was it a very sought after Maori settlement site, it provides a great view of Auckland and parts of the landscape around the city.

Mangere Mountain Volcanic Cone, Auckland
There are a few photos on this page demonstrating some of the views, islands, mountains, the houses spread around Auckland city, and the Tamaki Makaurau skyline with its many volcanoes.
Maori Settlements
Being one of New Zealand's temperate and warmer climates, this area provided conditions that were ideal for Maori to settle and have success with growing crops.
The volcanoes provided a vantage point whereby the settlements could keep watch for any potential attack from neighbouring tribes.
All in all it was a great place to build settlements and is still popular among present day New Zealand citizens.


A View Across Auckland from a Volcanic Cone
Views from Mangere Mountain
Visiting areas in and around Auckland like this when you first get to New Zealand give you a great view of the harbour and surrounding hills and is quite relaxing after your flight.
Well worth the visit if you have time and particularly if it is early morning or at sunset. You may be lucky enough to see a nice sky too.
Archaeology of Mangere Mountain
This is a volcano last erupted approximately 40,000 years ago and is now a very important archaeological site and educational resource for New Zealand managed by the Mangere Mountain Education Trust.
Once there you can still see the remains of 500 years of Maori settlement and what used to be a large fortified Maori settlement... or 'pa'. You can make out boundaries that were once used to divide the landscape into houses and living areas, gardens and storage pits, and boundary walls. And you can see a present day city sprawled out into the distance, including the harbour bridge and surrounding islands.
There is a self-guided walk that takes you around the mountain and past sculptures depicting life as it was in the eighteenth century of Mangere Mountain.
Being confined to an international air flight is not very much fun, so it is good to get out in the fresh air for a couple of hours afterwards to clear you head... and lungs... along with seeing some spectacular views.
Mangere Mountain Location on Auckland Map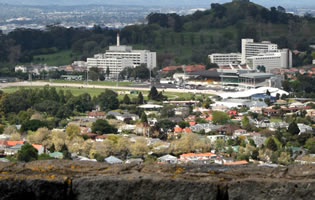 Auckland Racecourse View from Mangere