New Zealand Ferries
Because the country is made up of islands, New Zealand ferries are important for both locals and visitors.
Wellington Ferries
The longest running of these ferry services is the Interislander ferry, which runs across Cook Strait between Picton at the top of the South Island and Wellington at the bottom of the North Island.
Bluebridge ferries started in 2002 to service the same route and have expanded to two ferries and several ferry crossings a day.
There are also smaller ferry operations running between the South Island and tiny Stewart Island, the southernmost part of the country.
Bluebridge and Interislander Ferries Docked in Picton Port, South Island, New Zealand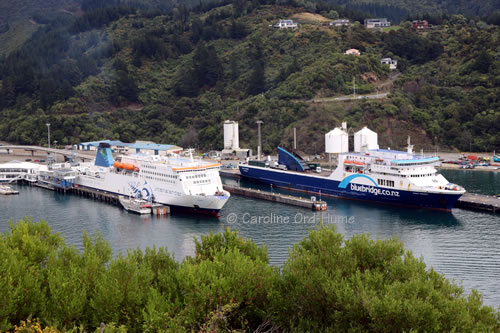 Interislander
Interislander is probably the most well-known of the New Zealand ferries between Picton and Wellington. The Interislander service is made up of three ferries: the Arahura, the Aratere and the Kaitaki. The carrying capacity of the ships ranges from 550 up to 1600.
Interislander Ferry Sailing in Marlborough Sounds, South Island, New Zealand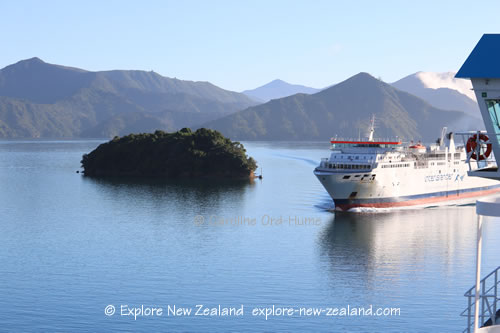 The Kaitaki is the largest of the three, and in fact the largest ferry in the country. It's packed with food and shopping outlets and it's about the closest thing you'll find in NZ to a floating shopping centre. It's designed to allow for plenty of observation space, allowing you to take in the scenic surroundings around Picton and Wellington Harbour.
Interislander has a range of fare types - you can decide which suits you best based on your travel needs.
Bluebridge
Bluebridge is another established ferry service running from Picton to Wellington transporting passengers and freight. Although Bluebridge haven't been ferrying the Cook Strait as long as the Interislander, they make excellent service their point of difference.
Bluebridge Ferry at Picton Dock, Marlborough Sounds, South Island, New Zealand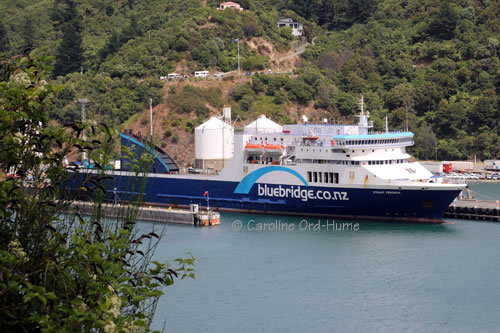 Bluebridge can also often be cheaper for transporting vehicles and I always use Bluebridge when travelling between the North and South islands with my campervan.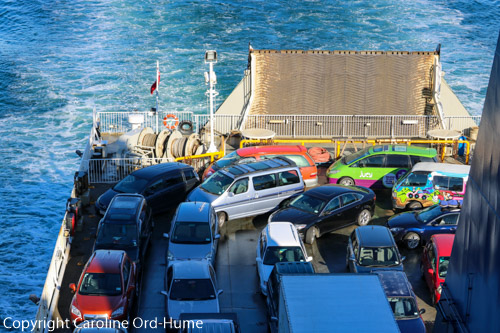 Bluebridge currently carries passengers and vehicles between Wellington and Picton up to four times a day on both the Straitsman ferry and the Strait Feronia ferry.
On board you can get good food and drink, free movies, free WiFi, a private cabin if you want one, and there are activities for children if you are travelling as a family.
Bluebridge provides several different fare options to appeal to travellers with different requirements and needs.
Wellington Harbour Ferry Day Trips
Wellington Transport Trains and Buses
Auckland Ferries
Auckland Downtown Ferry Terminal, Quay Street, Auckland. Ferries in Auckland Harbour go to the islands around Auckland such as Waiheke, Tiritiri Matangi, Rangitoto, Rotoroa, Motutapu, and Motuihe Islands, plus Devonport and the Coromandel Peninsula.
Stewart Island Ferries
Few visitors to New Zealand ever make it as far south as Stewart Island - in fact, few Kiwis have ever even visited this little island. But if you're making it your mission to go from tip to tip, you'll have to include Stewart Island in your trip.
Stewart Island Experience is a tour company which runs a ferry service across Foveaux Strait between Stewart Island and Bluff (the oyster capital of NZ). This ferry has a "guided tour" feel to it, with a commentary through the speakers about sights and local wildlife.
Kirra Tours also run a day trip to Stewart Island if you just want to stop by for a look around.
Picton and Wellington Ports Regions