Wellington Picton Ferries
Wellington Picton Ferries New Zealand
Cook Strait Ferries
The two main ferry services are run by Interislander and Bluebridge, both of which transport people and goods across Cook Strait between Wellington in the North Island and Picton in the South Island. The Bluebridge ferry terminal is opposite the train station and the Interislander ferry terminal is 1km north of that.
Wellington to Picton Ferry Cruising Through Queen Charlotte Sound, South Island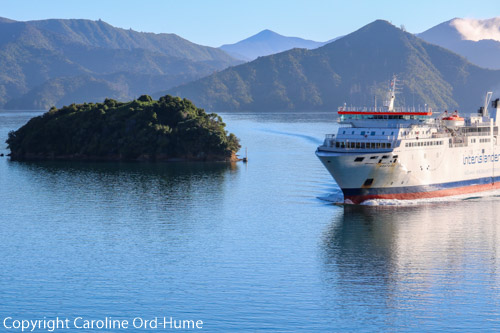 Cook Strait is a temperamental stretch of sea and sometimes the crossing can get a bit turbulent. However, you do get the opportunity to see Wellington and Picton from the water, view the North Island coast near Wellington, and take a leisurely cruise through the famous waters and landscape of Marlborough Sounds.
Bluebridge ferry takes around 3.30 hours to cross and Interislander a slightly shorter time but can also take 3.30 hours.
Both Cook Strait ferries run all year round every day and have slightly different fares, schedules, services and offers at different times. It is best to check with each company and compare before booking.
If you have a hire car, campervan or motorhome, there are sometimes special ferry crossing offers related to the rental. Other offers can include seasonal, family, and senior discounts.
Bluebridge Ferry and Interislander Ferry in Picton Harbour, Queen Charlotte Sound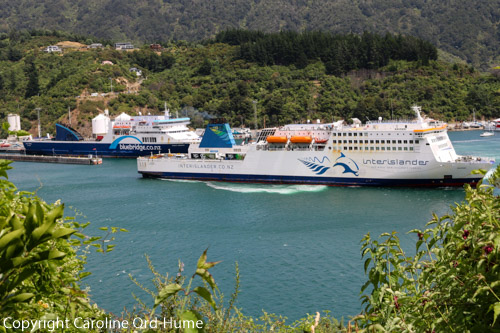 Day Trip Ferry
Across Cook Strait
Although Cook Strait ferry crossings take 3.30 hours each way, if you get on the earliest ferry and return on the latest ferry you can do the crossing as a day trip. Either from Wellington on the North Island to visit Picton on the South Island or vice versa.
The actual time out at open sea isn't very long as most of the journey time is made up of cruising through Marlborough Sounds and out of Wellington Harbour. It's a trip that is worth doing if you only have a day, particularly in nice weather.
Across Wellington Harbour
Day Trip Across Wellington Harbour on a Ferry
Motorhomes Campervans on Bluebridge Ferry Vehicle Deck Wellington Harbour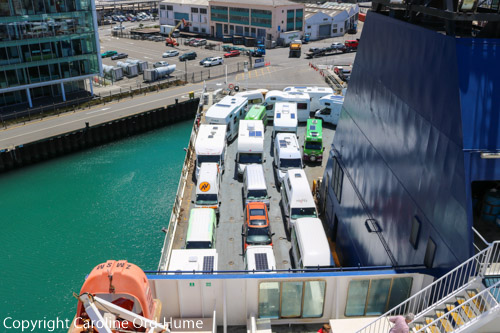 Wellington Picton Ferry Timetable and Schedule
Both Picton Wellington ferry services may be restricted during extreme weather conditions, so it's a good idea to check before heading to the terminal to ensure the timetabled ferry crossing is on schedule.
Bluebridge Cook Strait Ferries
Bluebriidge usually runs 4 crossings a day but some services do not run on Saturday and Sunday or may be restricted to freight. Check with their timetable and for any changes to the schedule.
Interislander is the larger company and usually runs 5 crossings a day. Check with the arrivals and departures.
Wellington Bus and Rail Connections
Wellington and Picton Regions
Wellington City - Wellington Attractions and List of 50 Things to Do - Wellington Annual Events
Wellington Harbour Tour on a Ferry, including an island visit.
Interislander Ferry Entering Wellington Harbour