Tongariro Accommodation New Zealand
The Tongariro accommodation choices include many different types of to choose from.
You'll find hotels, bed and breakfast, motels, ski lodges and resorts, apartments, and budget backpackers hostels.

Tongariro Parking, Accommodation, and Ski Lift

The National Park Village is located near the base of Mt Ruapehu, and Ohakune and Turangi have got great places to stay on the main routes to the south and north of the area.
Transport to the ends of walks and other experiences is often available from your accommodation and very useful when the end of your walk is miles away from the start!
Area Accommodation Choices
There are a range of accommodation choices in the Tongariro area to cater for all tastes and budgets, here is a sample listed alphabetically.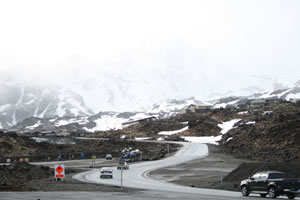 Whakapapa, Mount Tongariro,

Andersons Homestay Turangi
At The Tongariro Riverside B&B Homestay
Bayview Chateau Tongariro Hotel
Ohakune Court Motel
Oreti Village Resort
Powderhorn Chateau Hotel
Skotel Alpine Resort
The Park Travellers' Lodge
Tongariro Lodge Hotel
Tongariro River Motel
Bayview Chateau

Bayview Chateau Tongariro
A place to stay that stands out in the crowd is the Bayview Chateau Tongariro Hotel, and it is very popular among visitors to this part of New Zealand.
The Chateau is among NZ's most luxurious hotels and a Category One Historic Building with lovingly restored historic features that take you back to the period of the 1930s. Considering how long it seems to take to build anything these days, the original building only took 6 months to build! That is amazing!
You can still see those magnificent views from the windows that the first visitors loved so much that they travelled across the globe to stay there. Service and facilities are said to be second to none with several awards being one through the years. Although unfortunately I have not personally had the pleasure in staying at the hotel I have heard it is well worth adding the experience to your holiday.
After a long day out skiing or snowboarding at Whakapapa, or walking the famous treks in the national park, why not relax and soak up a bit of luxury.
Have a look at Bayview Chateau Hotel
Treks and Walks
Established in 1887 the North Island Tongariro National Park has the most spectacular treks you can walk as part of your New Zealand experience. The nearby towns of Ohakune, Turangi, and National Park offer accommodation in the region of these stunning mountains.
For more information about the available treks that take you through areas of active volcanoes, forests, lakes, rocks and alpine fields, please visit my dedicated pages on New Zealand Tongariro Trek, Tongariro Crossing, and Tongariro Northern Circuit
Region Attractions
Tokaanu Hot Springs
If you are visiting the Tongariro National Park take a drive round the Desert Road and then call in at the Tokaanu Hot Springs thermal hot pools.
It's a great place to stop for an hour or two, take a stroll round the springs or a dip in the hot pools.
Lake Taupo to Huka Falls
If you are leaving the National Park and heading past Taupo, do stop in at Huka Falls.
Just stop for a quick look at the river or take a bit longer and do one of the walks.