Tongariro Northern Circuit, New Zealand
The famous Tongariro Northern Circuit is one of the New Zealand treks that are termed the Nine Great Walks in NZ.
Tongariro Northern Circuit, New Zealand Walk
Northern Circuit Track
This is a longer experience than the one day New Zealand Tongariro Trek and is for the moderately fit walker at the least.
North Island
4 to 5 days
You need a pass during Peak Season, October to June
During off season you'll need tickets for the huts.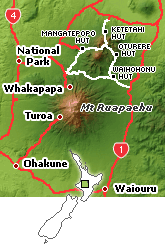 Larger interactive map of the region is provided below.
This track is to be considered a challenge to any tramper including uneven track surfaces, open and exposed stretches, unforseen weather changes and rapidly changing poor conditions.
When thinking about embarking on a hike such as the Tongariro Northern Circuit you must ensure you follow the recommendations for essential equipment and the clothing you wear or take with your is suitable for the conditions and will keep you warm! you have good warm clothing.
Visit my page on walk equipment and clothing for a list of items you will need at a minimum.
Tongariro Northern Circuit Map
Between the huts, the average walking times are provided but they are only to be considered as a guide. Outside influences such as weather conditions and fitness levels can substantially change these times either way.
The track will take you through the most stunning and dramatic, volcanic landscape that is seriously not like any other landscape worldwide.
Winding your way through a variety of terrains, over the amazing Mount Tongariro and around the well known Mount Ngauruhoe you will be fortunate enough to have the experience of passing through many famous landforms and get to see volcanic craters and beautiful scenic glacial valleys.
See my Great Walks page for an overview of details on all nine of the New Zealand most popular and famous walks.
As an Amazon Associate I earn from qualifying purchases
GREAT WALKS OF NEW ZEALAND - Craig Potton with Shaun Barnett
DAY WALKS IN NEW ZEALAND 100 GREAT TRACKS - Shaun Barnett & Geographx
Tongariro Walk Equipment, Clothing, Fitness
Read up on the type of walk equipment and clothing you will be likely to need.
You need to be a bit fit to do the New Zealand Tongariro Trek or Tongariro Crossing.
Find out about walk fitness levels.
Accommodation
Accommodation in this National Park