Tongariro Crossing New Zealand
The Tongariro Crossing in the Tongariro National Park is considered to be the most popular, and spectacular, of all the one day walks in New Zealand.
Established in 1887, the park is a world re-known World Heritage site in the centre of the North Island that is recognised for the importance of its Maori spiritual and cultural significance.
The Tongariro Alpine Crossing passes through the park and some of the most magnificent and varied landscapes including; volcanic terrain, geological features, mountain springs, active craters and emerald coloured lakes, steam vents and lava flows.
The still-active and majestic volcano Mount Ngauruhoe was used as Mount Doom in the trilogy Lord of the Rings and attracts many visitors.
Tongariro Crossing


Tongariro Landscape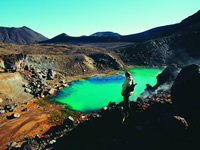 Tongariro Crossing scenery
If you like being out in the natural environment, learning about cultural significance and the history of such landscapes, this walk certainly provides amazing views and makes for a memorable experience. The nearest towns for the Tongariro Crossing are Turangi, National Park and Ohakune
By far the best way to do a walk like this, particularly if you are a visitor to New Zealand, is to take a guided walk with a local company that can not only guide you across the full Tongariro Alpine Crossing, but also provide experiential learning throughout the tour.
Professional local guides teach you about past and present culture, the natural environment, and will tell you stories and histories of the people and region.
You won't just be wandering along surrounded by some of the most spectacular countryside in the world; you will be fascinated by stories such as the one of a love story... a love story that caused a rift between mountains!
pureORAwalks is the only tour guide company able to guide the full Tongariro Alpine Crossing. All the tour guides are Maori, tangata whenua (local people) of Tuwharetoa (local tribe). Their knowledge and experience means you can enjoy an informative and relaxing walk in their safe hands. pureORAwalks have included everything into the tour price that will ensure you have a stress free day out in Tongariro National Park.
Transport transfers from Taupo, Turangi, Whakapapa, and National Park, lunch and refreshments at the end of the walk, are all part of the Tongariro Crossing tour package. The focus of this company is on small group tours with only 1-15 people in a group. With small groups such as these you won't miss anything and will enjoy a more hands on experience learning about the environmental sensitivity of the area from the very people who are leading you along the path of their ancestors.
For those of you looking for a more private tour, pureORAwalks have also released an additional option for privately guided guests called Tongariro Heli & Hike. Along with the personal experience of a privately guided walk, you get lunch; transfers, refreshments, and a 45 minute heli flight over the majestic mountains... including a free in-flight video and a bottle of Tohu wine! What more could you ask for :-)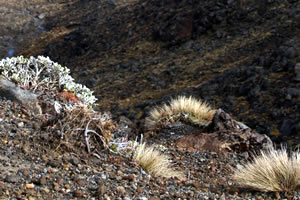 Tongariro National Park Flora
Tongariro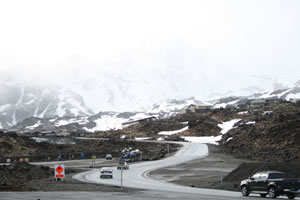 Mount Tongariro