Tongariro Walk Equipment and Clothing
Tongariro walk equipment and clothing is essential to get right because these are quite challenging treks across varied uneven and exposed terrain in the North Island of New Zealand.
Don't underestimate the recommendations for what you need to take with you as a minimum for walking in these alpine areas.

Tongariro Walker Image by Luca Calderone
The items listed below can be used as a basic list but you should ask your trek guide if there is anything missing from this list that they recommend you include.
Guides should provide you with there own list of items and health and safety recommendations anyway, so listen to their professional advice first and foremost.
Outdoor Equipment, Clothing, Weather Conditions
The weather conditions in these alpine locations such as the Trek, Northern Circuit, or Alpine Crossing, can change without warning. It is extremely important that you go well equipped for all eventualities and conditions.
It may be sunny at the base but the weather at the top could be an entirely different story!
Met service site for the latest on Tongariro weather
You must wear the correct clothing designed for the purpose of outdoor activities for the challenge and Tongariro walk equipment and clothing is essential.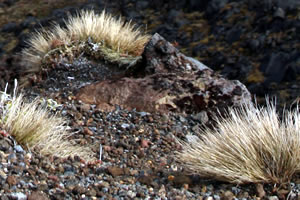 It is not advised to wear anything cotton such as t-shirts or jeans, and footwear must be appropriate, (not trainers, gumboots, or slip-on shoes, and nothing made with mesh material)
Essential Tongariro walk equipment and clothing
Backpack
Warm hat or beanie
Warm gloves
Warm socks (walking socks are best)
4 warm tops
A good rain coat
2 pairs of warm long walking trousers. You can wear thermals under walking trousers or take water proof outer trousers to wear over the walking trousers.
Walking Boots, above the ankle, with good tread. (Leather or Gore-tex are best)
Spare boot laces
A minimum of 1 Litre of water, preferably more
Lunch and snacks such as chocolate
Camera and film or batteries
Sunscreen
Lip balm (wind, sun, and cold, can all cause chapped lips)
Sunglasses (snow can also be really bright on the eyes as well as sun)
Crampons and Ice axe (for winter trekking)
A map
Notebook
Mobile phone (check mobile reception in that area as it may not be reliable for communication)
You will need to take basic cooking utensils, a cooking pot, a good sleeping bag, more than enough food in case you are there longer than you had planned, and toilet paper. These are not provided.
There is usually a supply of rain water available for drinking at the huts. Gas cookers and heating is also part of the hut facilities on these treks.
The above Tongariro walk equipment and clothing list is specifically aimed at the treks in this region, and mostly for alpine hiking. Different walks and regions will have different recommendations, either more or less equipment for the right season.
Walks