Tongariro Walk Fitness
A basic guide to Tongariro walk fitness requirements.
Please ask your guide for more specific details relevant to the walk or season.

Tongariro Emerald Lakes Image by Luca Calderone
Fitness for Tongariro
There is no doubt that the most important thing to consider when embarking on a New Zealand trek is that you need to be reasonably fit. The physical challenge of walking over rough terrain with steep climbs and descents means at least medium level is a necessity.
Good health is also a prerequisite. Your guide may require you to sign a form stating your good health and ability level fit for the walk.
For your safety, and that of and other walkers in your group, walk fitness for Tongariro is so important that you may be prevented from taking part on the excursion due to some medical conditions such epilepsy, blood pressure, heart problems, and chronic asthma.
Guides for Tongariro Walks
To make the most of this New Zealand experience, and to stay safe, you should be accompanied by a guide with mountain guiding experience in the specific alpine region. Changing weather and conditions such as ice, snow, and strong winds, may force your guide to make decisions that can only be made based on the conditions being experienced at the time.
In the New Zealand summer there won't be quite as many things to consider before setting out in this stunning National Park, but always ask first. Just because it's the summer season it does not mean you won't need to take provisions with you, or you can turn up in sandals or flip flops (jandals). For example if it is very dry there may be a need to take additional water rations and sun cream!
You must follow your guides advice at all times!
Minimum Age
If you want to take anyone under the age of 10 years on any of the walks, do ask advice first. The Northern Circuit, Alpine Crossing and Ruapehu Crater Trek are not suitable so you may have to choose a lesser challenging and shorter hike to accommodate the level of your accompanying trekkers. Possibly some shorter walks such as the Tama Lakes, Taranaki Falls, Silica Rapids would be more suitable if there are younger members in your hiking party as they don't need such a high level of fitness.
Kit
Be prepared for all eventualities and weather.
You need to be aware of the recommended equipment for these walks too. Visit my page that provides a guide and tips to the type of Equipment and Clothing you need to consider for this terrain in New Zealand.
Walks
Accommodation
Accommodation in the National Park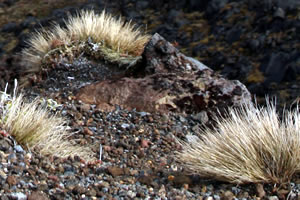 Flora in Tongariro National Park