Auckland Dockline Tram
There was a break of 55 years for Auckland trams but the recent establishment of Auckland Dockline Tram means this great method of transport is back in the city. Two previously Melbourne (Australia) trams were delivered to Auckland from their source in Melbourne on 8th June 2011.
The vintage trams were restored to their original condition and there is no doubt that they provide you with a romantic way of travelling through part of Auckland.
Auckland Dockline Tram - Photo by Roy Sinclair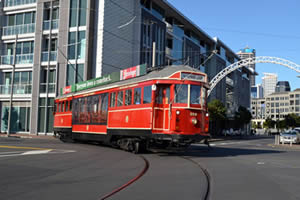 There is plenty to see on this nostalgic journey from the Auckland Viaduct Harbour past some of Auckland's attractions and parks.
The Wynyard Quarter route travels a loop around Auckland through; Halsey Street, Gaunt Street, Daldy Street, and Jellicoe Street.
Auckland Dockline Tram operates the Tramway services which, following testing and training for drivers, were opened on the 6th August 2011 well in time for hosting of the 2011 Rugby World Cup.
Auckland Travel Guides
Auckland Tram - Photographer: Roy Sinclair
Read Roy's blog post about "Learning to drive a tramcar".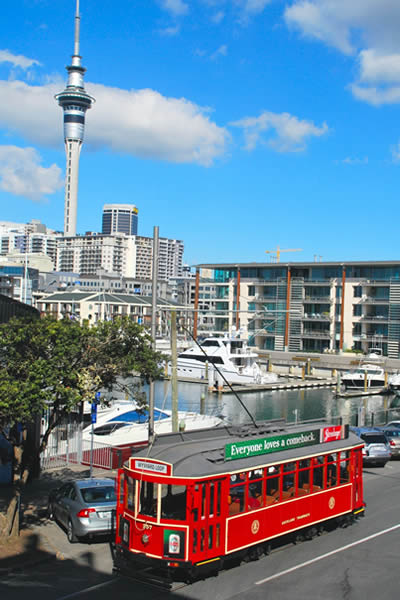 Auckland Tram History
Trams played a big part in the transport system of New Zealand from the nineteenth century through to the mid twentieth century with the first horse drawn tramway being established in 1862 in Nelson. Following Nelson, in 1871 the first steam tramway was in Thames and the first electric tramway in Dunedin in 1900.
From 1884 until 1902 there were horse trams in Auckland City. In November 1902 electric trams were officially opened and continued to run right up until up until 29 December 1956.
The electric tram services ran from Waitemata Harbour across to the Manukau Harbour with Auckland having the only coast to coast tram system at that time.
After 1956 these trams were replaced by buses and trolley buses as they were gradually being replaced all across New Zealand. Wellington closed the very last tram service in 1964.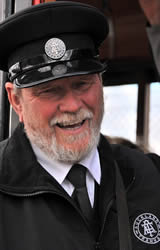 Auckland Dockline Tram Driver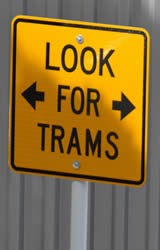 Look for Trams Sign, Auckland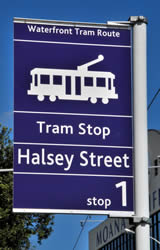 Auckland Tram stop Halsey Street sign
Tram Tracks Bike Warning Sign, Auckland
Auckland Dockline Tram Opening Day
Video of the Auckland Dock line Tram opening day Saturday 6th August 2011.
Auckland Tram Route
Visit the Auckland Tram website for the Auckland Tram Map
Train Travel New Zealand
To relax and enjoy the scenery when you are touring New Zealand, you can't beat train travel. Travelling New Zealand by train is a great way to experience the stunning scenery across both islands without having to 'keep your eye on the road' as you do when driving. Even if you travel by train for only part of your holiday, you will appreciate it is a much more relaxing way to cover long distances while being able to see the views you would otherwise miss with self-drive methods of transport.
If you have a choice between taking a domestic flight and taking the train you will experience much more from a train window that you would from a plane!
Visit my page on Train Travel New Zealand for more information and tips or see my other travel related sections linked below.
Auckland Travel Guides