10 Tips for Campervan Rental New Zealand
The following 10 tips for campervan rentals in New Zealand will give you an idea of various issues you need to think about when hiring campervans and motorhomes in NZ.
I recommend making a list of questions to ask the camper hire company before contacting them or committing to a booking.
2-3 Berth Campervan at Huka Falls Car Park, Waikato, New Zealand
For example, what are the driver age limits, how much will the insurance and bond cost, what size of campervan will be most suited for your needs, can you pick up and drop off the vehicle at different locations, what fuel and transmission does the model of choice have, does it include unlimited mileage, are there any routes you are not permitted to drive on, and what equipment comes in the motor home within the rental price?
Detailed list is provided below.
1 Campervan Driver Age Limits
The minimum age required to drive campervan rentals in NZ is usually 21 years but may be older for some campervans such as up to 23 or 25 years of age. There may also be restrictions for drivers over 75.
2 Insurance - Mandatory and Optional
There may be some mandatory insurance charges or you may be given several options.
Check the insurance excess and bond because it is also possible to pay a higher daily rate for the excess to be waived and/or hire with a zero bond layout. Keep in mind that it's often small damages to the vehicle that come within the excess and are more likely to happen.
Windscreen insurance is important and tyres can get damaged, make sure these are covered. In my case a lorry coming in the other direction pinged a stone up that I thought had chipped the windscreen. Luckily for me the chip was there from a previous hire and was already marked up on my pick up check drawing! Phew!
Consider the number of drivers you need.
Larger campervans incur higher vehicle insurance as they are more expensive to buy, repair, or replace.
3 Insurance Bond
An important part of my tips for campervan hire is that you will be asked for a bond to cover the liability of any damage at the start of your rental period.
Most hire companies will take an imprint of your credit card for this and will not use it unless the vehicle does get damaged. However, others will actually take the money from your credit card immediately and add a percentage admin charge to the cost.
You should be made aware of any use of your credit card for this purpose when you drop the vehicle off at the depot. If there is no damage the imprint slip should be given back to you or disposed of, or the bond be refunded to your card.
Be aware that some companies may take the bond at the start of your holiday so ensure that your credit card limit is enough to cover it. If you have a low credit limit on the card and they take the money you won't have enough left to cover your vacation. Also consider that the exchange rate may be different when you return the camper van and there is a risk you may lose money on your refund.
If the bond is taken immediately, and a camper hire company admin charged at 2% when taken and when refunded, you will have a bill of a few hundred dollars over the rental bond cost!
2 to 4 Berth Campervan or Motorhome Berth and Size
2 berth campervan, 3 or 4 berth campervan, or 6 berth motorhome?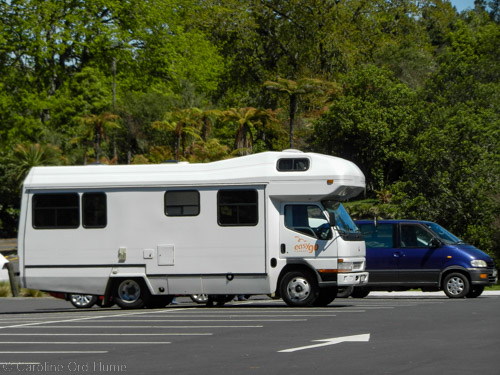 6 Berth Motorhome Hire New Zealand
How many people will be travelling in your campervan? How long is your holiday? Both these questions will have an impact on your choice.
If you are a family be aware of the potential need for a bit of space for the children to be entertained inside if the weather isn't good one day. Also take note of the sleeping arrangements and layout inside because you will need a bit of privacy between sleeping areas in the larger berth campervans.
If there is only two of you don't get a huge motorhome because you don't want to be prevented from going to some locations because you are driving a massive truck!
Painted 2 Berth Campervans, North Island, New Zealand
Some of the roads in New Zealand can be quite bendy and hilly. Along the coast roads your vehicle can get caught by the wind a bit because they are high sided vehicles.
Make sure your choice matches your driving ability and needs.
5 Pick up and Drop off Locations in New Zealand
If you are going to be arriving during a Saturday or Sunday, or on one of the New Zealand public holidays, don't forget to check that the company depot is open on weekends. They may only be available for pick up during the morning on a Saturday.
If you want to pick up and drop off your New Zealand motorhome hire in different towns or islands, be sure to first check if the company has a depot or office in that location. Remember to ask if this involves extra charges. An example may be a pick up in Auckland and drop off in Christchurch.
See if airport and hotel transfers are offered by the company.
Check if there is an additional cleaning fee or rubbish disposal when you drop off the vehicle. Most companies do not charge if you leave the motorhome in the clean condition that it was when you picked it up. In my case the inside was clean but I couldn't find anywhere near to the depot to wash the outside... but I wasn't charged extra for that.
My Tips for Campervan Hire in New Zealand suggests you make sure you empty the waste water at your last opportunity!
6 Campervan Fuel and Transmission
Larger campervans and motorhomes use more diesel or petrol than smaller ones. Check the kilometres or miles per gallon because it can make a huge difference to the cost of your travel.
Enquire if the rates include free unlimited kms or if you will have to pay for mileage or road user tax.
A lot of the campervans for hire in New Zealand will have manual transmission, you may prefer automatic.
7 Routes and Roads
The majority of campervan rental companies in New Zealand will place restrictions on some of the roads that you are allowed to drive the campervans.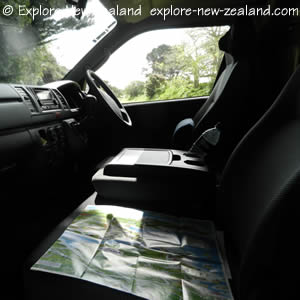 There are good reasons for this so do take note of the restrictions. Some of the roads that are off the main roads may be rough and liable to cause damage to the camper van. In the winter a particular road may be re known for snow or ice driving conditions and again potential for damage or accidents.
There are New Zealand roads that are not sealed that can throw up stones that damage the under side of the van, or oncoming traffic can throw stones up and damage windscreens.
I wouldn't recommend hiring a van if they only permit you to drive on sealed roads. This may prevent you from going in some areas where although the road is unsealed it is perfectly good enough to drive on and may be just a short drive. As an example, although it is now a sealed road, the first time I visited New Zealand Haast Pass was unsealed and this is a major road link across the South Island.
Examples of some restricted driving routes or off road areas for campervan rentals NZ will be: Ninety Mile Beach (Northland, North Island), areas north of Colville Township (Coromandel Peninsula, North Island), Skippers Road (Queenstown, South Island), Ball Hut Road (Mt. Cook, South Island).
Ensure you have breakdown cover included in your rental. 24 hour breakdown cover is ideal but can be more expensive.
8 Off Road and Four Wheel Drive Campervans
You don't generally need a four wheel drive campervan for New Zealand travel unless you are planning to go to more remote areas or may encounter river crossings etc. Check your itinerary and ask the hire company what their advice is according to where you are planning to travel.
Also check if they actually allow you to take the campervan off road and if it is a suitable vehicle in relation to braking and handling in a variety of conditions.
If you are planning to drive along more remote and lesser used roads do make sure you choose a newer vehicle and read up on feedback reviews to check on the reliability of the campervans.
It's no good if you break down in the middle of nowhere even if the scenery is fantastic!
9 Equipment in the Campervan or Motorhome
Find out what cooking, sleeping, kitchen, and camping equipment is provided in your campervan.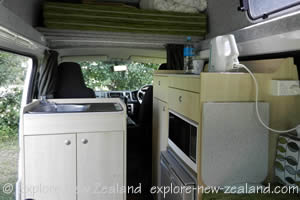 This is important as it can make a big difference to your comfort and expenses. If it is winter travel, warmth is going to be important to you and you don't want to have to look to buy extra bedding.
Campervan rentals may provide: Road atlas, bedding, heater, towels, pots and pans, plates and cutlery, picnic table and chairs, BBQ, clothes line and pegs, snow chains, etc. If some of these items are not included in the price they are often an additional extra that you can choose to hire or not.
Snow chains are not usually included but if you are travelling in winter to New Zealand ski resorts you may need them depending on your planned routes. Check out New Zealand Seasons
A tent is sometimes offered and can be useful if you have older children and they want to camp out.
Toilet and shower facilities. Campervans come with and without toilets and/or shower cubicles, as do some camp sites! We chose a small campervan with a shower cubicle in the corner that had a portable toilet in it too. This was convenient for two women travelling alone but I have to say that we didn't actually need to use the shower as we used the shower facilities on camp grounds. On reflection, next time I'll most likely just get one with a toilet and not be fussed about having a shower in the van.
Some companies will offer a mobile phone but it will generally cost extra.
10 Pick up Check for Condition and Existing Damage
When you pick up the campervan in New Zealand the company should provide a form with an outline drawing on it that marks out any existing damage.
Be sure to walk all round the van with the rep and study it for existing damage. Make sure everything gets marked on the drawing so that you can't be blamed for any damage caused by a previous driver.
Also ensure you check the inside contents of the camper van and everything that is provided. These contents, such as bedding and cooking equipment, will be checked when you drop off the vehicle and anything missing or damaged will be charged to you. It's therefore extremely important that you take note of these items and worth spending the extra time before heading off on your travels.
Find out More About Campers and Campsites
New Zealand Campervan Sites will give you an insight into what to expect when stopping overnight in the camping sites throughout both islands, and what facilities you may expect to find.
Campervan Rentals New Zealand covers other information about choosing a campervan hire company in New Zealand.