New Zealand Honeymoon
Are you considering having a New Zealand honeymoon?
You could be surprised at how easy it will be to get organised for a honeymoon in NZ. This certainly is a fantastic country to go to for your honeymoon. It is host to such a wide variety of places to visit activities, locations, and outstanding hospitality to look forward to.
This is a country with an abundance of awe inspiring scenery and activities, mountains, lakes, rivers, and rugged landscapes, romantic places for honeymooners.
Sunset at Collingwood
You could try one of the many great walks in NZ, some of them take days to cover and can be in remote locations where you will get plenty of time to spend with each other away from civilisation...
Destination Honeymoon North Island
Some ideas for the North Island...
Auckland
Auckland has stunning beaches, over 50 extinct volcanoes and islands, a couple of mountain ranges, several scenic parks, vineyards, the Auckland Museum, and plenty more attractions to occupy your honeymoon time in one of the most romantic cities.
You could visit Long Bay, located on Auckland's North Shore and offering beaches with picturesque views of the area that would make a perfect setting for romance.
Just thirty minutes from the Auckland International Airport, including 30,000 acres of beaches, streams and waterfalls, and ocean views across the Tasman Sea, there is the Waitakere Ranges Coastal Rainforest Park. The park will provide romantic settings for a New Zealand honeymoon in the rainforest or beach regions.
Waitomo Caves
The Waitomo Caves are around a 2 hour drive south from Auckland. Waitomo region attractions include ancient caves, rivers, waterfalls, and glow-worms.
Otorohanga Kiwi House and Native Bird Park is not far from Waitomo and it's just a couple of hours to Rotorua if you also fancy visiting the thermal area and having a Maori cultural experience.
Huka Falls
Huka Falls are formed as part of the Waikato River, Wairakei Park, not far from Taupo. These falls are among the most visited locations out of the New Zealand attractions, you won't see anything like them anywhere else. There are also walks that you can do along the river.
Tokaanu Hot Springs
You must experience hot springs if you have a New Zealand honeymoon, and the Tokaanu Hot Springs are in the Tongariro National Park so you could visit there as well as get a look at the mountains of the North Island.
River Trip - Whanganui Journey
If you are adventurous and fancy a river trip during your honeymoon, try the Whanganui Journey by kayak! The river winds its way to the Tasman Sea and if you want to do the whole journey it will be about five days to do the 45 Kilometre trip.
Destination Honeymoon South Island
A New Zealand honeymoon package may include any of the following locations in the South Island:
Mount Cook National Park
You could go to the top of a glacier or mountain by snow plane or helicopter, depending on the time of year and availability.
Imagine the untouched scenery that gives you the feeling of being on top of the world, what an experience. A visit to a Aoraki/Mount Cook National Park glacier is very popular for honey moon experiences.
The Remarkables Range
The Remarkables Range, Queenstown, South Island, is also a location that provides a stunning backdrop for visiting mountains.
Lake Wakatipu runs along the side of the Remarkables Range, with Queenstown below, snowy mountains, and a fantastic view of the lake, sounds good doesn't it?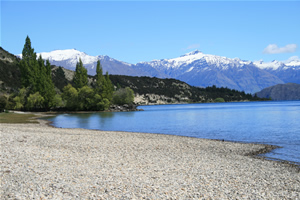 Lake Wanaka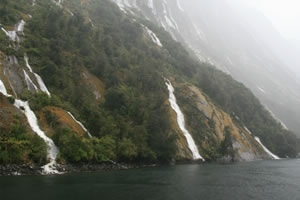 Milford Sound Waterfalls
Queenstown
Queenstown is a great base setting for a New Zealand honeymoon. There is plenty to do in Queenstown and the surrounding region, places to stay on the shore of Lake Wakatipu at only fifteen minutes from Queenstown, or overlooking alpine mountains and Lake Hayes.
There are a variety of activities in and around Queenstown, and several vineyards you could visit for days out and a spot of wine tasting. Or, if you are looking for adventure, try Heli Skiing.
You may be aware that Queenstown and Milford Sound are also both areas where there are plenty of famed film sets. Lord of the Rings, the Lion the Witch and the Wardrobe, and Willow were all filmed in these regions of New Zealand. If you are both interested in these films it would be fun to visit some of these locations.
Milford Sound
Milford Sound is one of the most amazing places on earth to visit. If you were based at Queenstown on your New Zealand honeymoon, there are a choice of tour operators that will pick you up, take you to Milford Sound for the day, including an excursion on a cruise through the Sound, then drop you back in Queenstown for your evening meal, or candlelit dinner.
Alternatively you could take a scenic flight from Queenstown to Milford Sound... I haven't personally had the opportunity to take this flight, but some friends of mine said it is an unrivaled experience they will remember forever as one of the best choices they made while on holiday in NZ.
The Milford Track is also a lifetime hike located in the Fiordland National Park and as part of the Te Wāhipounamu (South West New Zealand World Heritage Area), is something you just can't experience anywhere else in the world. Or... two pages full of ideas for walks are;
New Zealand Great Walks and New Zealand Walks
Getting Around
Look at this map of New Zealand and you will be able to see the locations in relation to airports and other attractions in the Auckland area then zoom out to get a look at the whole country when planning your New Zealand honeymoon.
If you want to travel around during your New Zealand honeymoon, and possibly cover both islands, you may consider that domestic flights are a great way to get around New Zealand if you don't want to spend days of your honeymoon driving.
It's often cheaper to fly domestic, and invariably a lot quicker when compared with driving if your honeymoon has a limited time period with which to fit in a lot of travel round the country.
Alternatively, if you do want to do some driving, why not consider car hire or hiring a campervan or motohome and travelling around by yourselves. The facilities for touring the country are fantastic and my trip round the South Island in a campervan was an amazing experience that I would love to do again if I was on honeymoon. You have the freedom to choose where you want to go and when. You can stop for one night or more in any place you choose, or move on if you fancy.
You don't necessarily even have to book camp sites in advance, although it is recommended if it is in the height of summer because the New Zealanders will also be on holiday during the public holiday period and you may find some of the sites are full if you don't book in advance. However, it is very easy to plan an itinerary and there is no reason why you couldn't stick to it as practically everywhere you go will be brilliant anyway!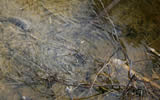 Here are some tips on campervan and motorhome travel to give you an idea of how to book for a New Zealand honeymoon. Or visit my New Zealand Travel section for lots of other ideas for travel.
What about having a New Zealand Wedding